I am participating in 4 Letter Journal mailing groups now, all at different stages. I wonder if one day I might find a stack of envelopes in my mailbox, giving me lots of letter journals to work in! The most recent one I got belongs to Barbara Hauenstein, from the group I organized of 6 participants. The cover of Barbara's Letter Journal and 2 pages she started and I contributed to are below. If you mouse over the photo once you click on it, there is more description.
As the journals are mailed around the world in a round robin fashion, the idea is to add to the backgrounds of the pages and do one or two pages yourself as a "finished" spread. We sign & date to let the rest of the group know that page is "done" and finished. The rest are up for grabs to collaborate with. Below you can see more of the background pages. The first photo in a series shows how the page came to me and the subsequent ones show what I did to collaborate. The photos at the end with the plane & luggage are of my finished spread of pages!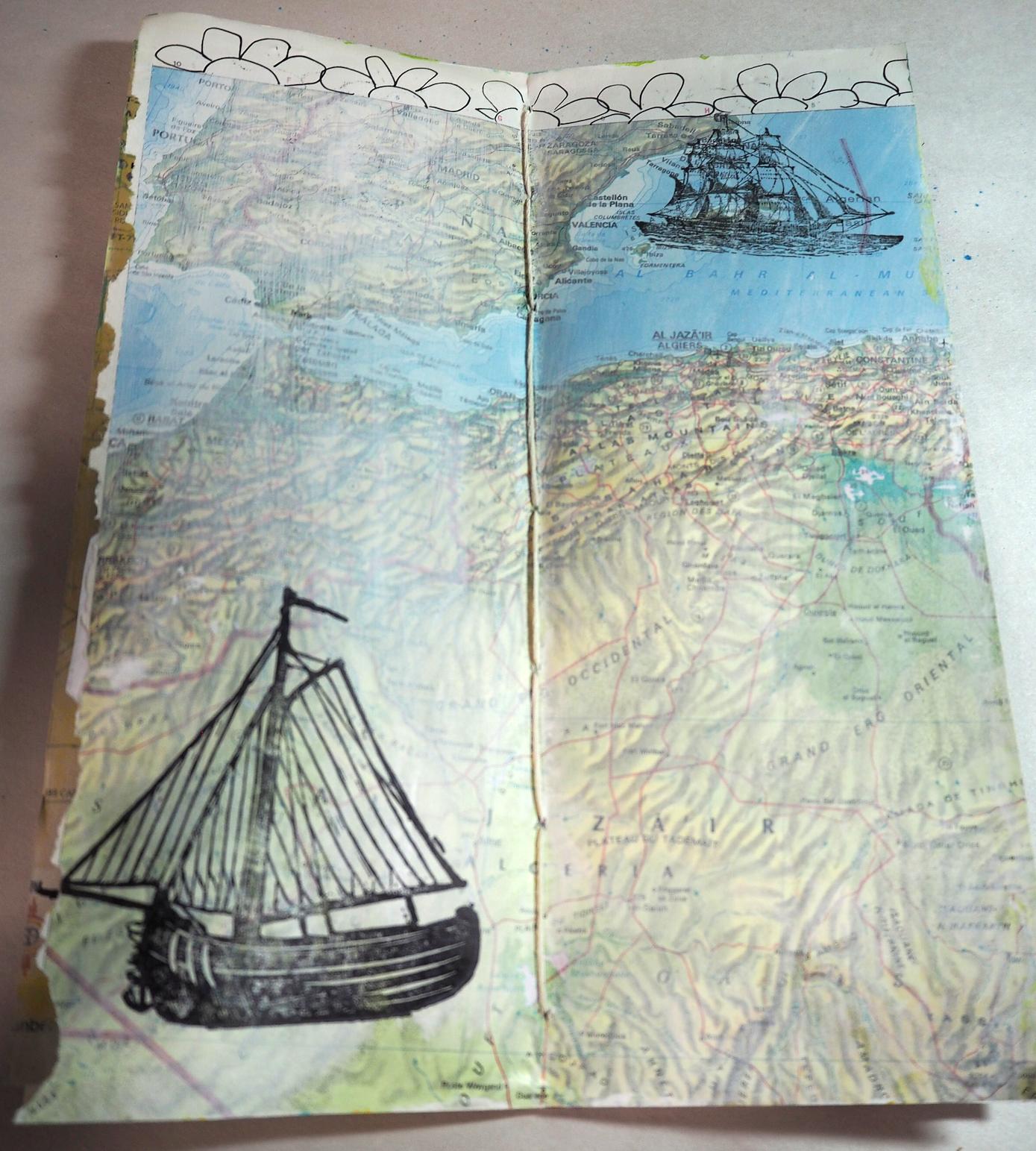 I do not think too much before diving into working in one of these journals which is one reason why I probably enjoy it so much! In this case, I did hunt around for rubber stamps I thought would work with the Road Map - Map - Road Trip - Travel theme. And I enjoy using various paints (Lumiere) and spray inks (Heidi Swapp Color shine) for backgrounds. I used my fingers to paint with and spread the dye around. I did not do much collage this time... I tend to just look at the page and grab what is nearby, get ideas as I go and let it happen. My husband was fascinated with this process when we first got together as a couple because he always plotted and planned and knew what his drawing or whatever he was doing was going to look like before he started!! Opposite of me. But Steve did let go of that idea and wanted to do a few a collaborative paintings with me which was a real treat. You can view a large painting we did together, hanging on the wall behind me here. If you use the small arrow on the right side, there are a couple more detail photos of it following that one.
❤I love creating & working in Letter Journals!! You'll find more information about them in this earlier post. This one will sail off to Kerry on Monday 5/16/16.