Lots of Letter Journals are coming & going it seems! There are 3 more people in our mailing group who will receive Fran's LJ and work in it before it returns home to her :0) I started by adding a bit more to a spread of map pages that Fran started . . . I used a blue watercolor crayon and I recycled a globe from Barbara's envelope. I splattered some metallic gold ink & added a couple of rubber stamp images, still leaving room for others to work. This would be "adding to the backgrounds" like we are supposed to in LJ!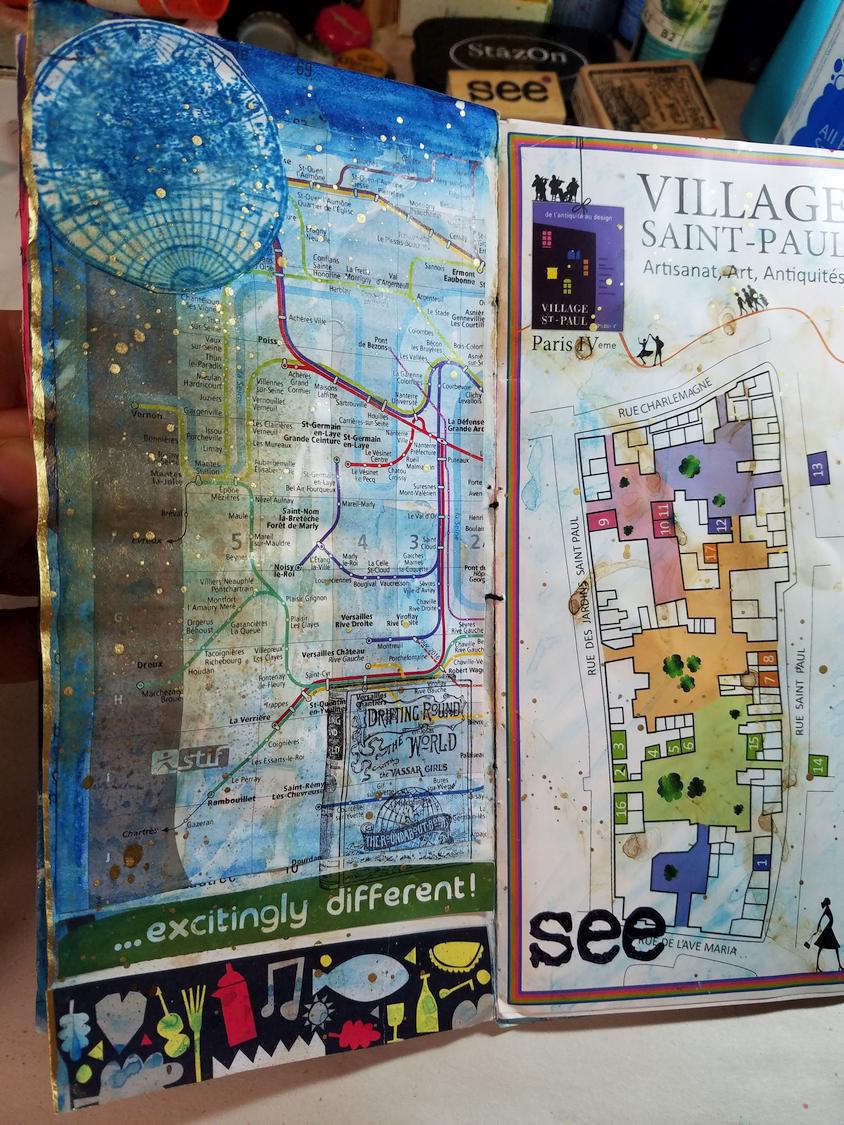 Next I added a bit of ink and watercolor crayon to a page I KNOW Barbara worked on because I recognize her style! The beautiful sunny flowers with smiling faces are wonderful, I just wanted to add a little bit more color to the page. There is still room for more additions or completion of the page by Kerry, Marilyn or Debra. That is how this works!
The pages I chose to do a completed spread were map pages that already had a bit of stamping, drawing, inking & doodling. I'm not sure if it was Fran or Barbara who started embellishing these pages... but my progression in them is shown below. Dye ink from an Adirondack pad & a sponge was used to color the pages. I rubber stamped a flower, embossed it, outlined it with white correction ink, then used a woven type stamp with gold ink, added contrasting lines with a fine line black permanent marker, splattered white & gold paint . . . I think that's it!
Below, I added color (Pink!) and a stamp to a Clock page and noted that I lived in Los Angeles in 1977-79 as shown on the map :) Click on any photo for a full view.
Another page I added to but still has room for more was this set of pages below. I stamped a sign post & left the multiple signs blank for someone else to fill in . . . then stamped a favorite quote on some paper that related to Barbara's drawing of a house. I splattered more inks carefully (masking when needed) and it turned out very colorful! I like the extra little book in the middle but left it for someone else to enjoy! See below . . .
And to finish it, just adding a bit of color to one more set of pages and adding a little note to Fran with a picture of me & my sister when I was 5 and Kathy was 2. Barbara's note is above mine. Fran's journal was one of the largest ones I have worked in yet, but I enjoyed it very much! I look forward to seeing what Fran does in MY journal when it makes it's way to her! Collaborative work ROCKS!